Sheet metal processing

Sheet metal processing: this is the beating heart of our company. Metal cutting and bending is carried out using three Trumpf laser cutters and three plate bending machines, one of which is fully automatic. All of this is managed by a warehousing system called "Stopacompact", a computerised warehouse which allows us to maximise the way we manage our materials.
Our departments: Laser cutting, Bending, Welding, Automatic  warehousing system STOPACOMPACT.
Our sheet metal is welded together using a triple axle CLOSS ROMAT 310 robotic welding installation. It has two work stations which allow us to quickly carry out precise, resistant and reliable welding work on a continual basis.
In particular, BRG can offer:
Designs using Solidworks (the leading software for mechanical 3D design) with finite element calculations.
Processing using machine tools.
Jigsaw cutting.
2D laser cutting.
Sheet metal pressing.
Robotic bending and manual bending up to 4 m.
Robotic welding.
Spot welding.
Assembly.
Calendering.
We adhere to the strictest of quality regulations throughout the design and development of our products. Everything we do is to ensure that we provide you with a reliable, efficient and good quality service.
Ask for a free offer!
Laser Cutting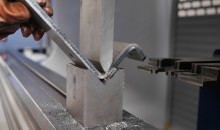 Bending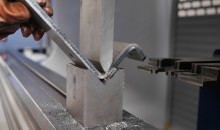 Piegatura nuovo
Welding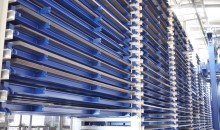 Warehousing system StopaCompact
---